Universal Truck Service strives to be a one-stop shop for the maintenance, repair, and inspection of trucks, trailers, and tankers. Whether you have one semi-truck or an entire fleet, our team has the experience and expertise to effectively handle any job.
Truck Service & Repair Experts
Commercial trucks are hardworking vehicles that endure demanding conditions, making them prone to various repair issues. At UTS, we specialize in providing the assistance you need to overcome these challenges and keep your commercial trucks operating at their best. As heavy-duty vehicles, commercial trucks often face unique maintenance and repair requirements. Our team at UTS understands the intricacies involved in addressing these issues, drawing upon our expertise and industry knowledge to deliver top-notch solutions.
At Universal Truck Service, we go the extra mile to ensure your comfort and convenience. While your equipment is undergoing repairs, you can unwind in our customer lounge with complimentary Wi-Fi, an entertainment area, as well as shower and bathroom facilities.
For truck services, contact us at 651-639-0017.
Commitment To Quality
From mechanical malfunctions to electrical problems, we are well-equipped to handle a wide range of repair issues that commercial trucks may encounter. Our dedicated technicians possess the skills and experience necessary to diagnose problems accurately and provide effective solutions that restore your truck and get you back on the road! We recognize the critical role that commercial trucks play in your operations, and our mission is to support you in maintaining their reliability and efficiency. With UTS as your trusted repair center, you can rest assured that our commitment to exceptional service will keep your commercial trucks on the road, delivering results for your business.
Truck Services
DOT Inspections

PM Services

Complete Engine Diagnostics and Overhauls

Engine Tune-Ups

DPF + SCR Systems from Diagnostic to Repair

Certified Cummins Service Center

DPF Filter Cleanings

Alignments

Brake Systems

Suspension Repairs

Transmission Repairs
Experience when it matters. Contact us today!
Get A Quote
Mobile Service
24 Hour Roadside Service – 365 Days A Year
Experience convenience and reliability during emergencies or everyday service requirements! Connect with us to access our mobile fleet tailored to meet your needs. Skip the hassle of waiting in long lines or arranging drivers for pick up and drop off. We bring our services directly to you. Our highly skilled technicians will promptly and expertly address any issues, ensuring efficiency and exceptional results. If you require our mobile service, please reach out to us at 651-639-0017.
Schedule Service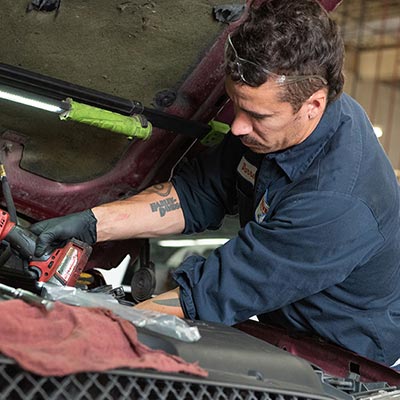 Fleet Specialists
Universal Truck Service is your ultimate destination for comprehensive fleet maintenance and repair solutions. Our extensive range of fleet services offers discounted labor rates and a strong emphasis on cost-effective repairs. We understand the intricate nature of managing maintenance and repair tasks for fleets of all sizes. With our 20 years of industry experience, you can rely on us to provide reliable commercial fleet services customized to your unique business requirements.
Safeguard your investment: Fleet units are a vital investment for your business, and we prioritize their protection through expert repair and meticulous fleet maintenance services.
Minimize downtime: Time is valuable, and we recognize the importance of minimizing fleet downtime. Benefit from our prioritized scheduling and accurate time estimates to keep your fleet on the road.
Optimize your budget: Our skilled team specializes in fleet repair, offering negotiated labor discounts and a sharp focus on value-driven repairs, ultimately reducing your overall cost of ownership.
Complimentary Delivery: Streamline your fleet maintenance experience with Universal Truck Service's complimentary delivery services exclusively designed for our valued fleet accounts. If interested, simply contact our dedicated Service team at either of our locations. They will gladly provide you with all the necessary information regarding the availability and terms of our convenient Pickup and Delivery service. Experience the ease and efficiency of Universal Truck Service as we go the extra mile to ensure your fleet stays on the road without disrupting your busy operations.
Experience the ease and efficiency of Universal Truck Service as we go the extra mile to ensure your fleet stays on the road without disrupting your busy operations.
Contact the service department to get a quote: 651-639-0017
Get A Quote