Precision Body Repair
Universal Truck Service's state-of-the-art body shop is a comprehensive facility catering to all truck makes and models. Our skilled technicians possess extensive experience in restoring trucks to their pre-accident condition, ensuring top-quality repairs. Universal Truck Service's Body Shop provides an array of exceptional services, including:
Body Repairs – From minor touch-ups to complete restoration

State-of-the-art paint booth

Itemized estimating for accurate cost assessments.

Direct collaboration with all insurance companies.

Certified technicians and refinishers ensuring top-notch craftsmanship.

Frame repairs capable of restoring even severely damaged frames to functional and road-worthy conditions.

In-house color system, combined with advanced color match technology by PPG , guaranteeing precise and flawless paint finishes.

Professional and courteous staff committed to exceptional customer service.

Loaner hoods available to minimize down-time.

Custom paint services, allowing you to make a bold statement.
Our 100-foot paint booth, equipped with cutting-edge technology, enables us to accommodate anything from minor touch-ups to full custom paint jobs. Utilizing software, our experts can flawlessly match paint colors, and our certified commercial refinishers will execute the job to perfection. UTS Body Shop technicians are dedicated to restoring your vehicle to its former glory, delivering impeccable results. Share your vision with us, and we will bring it to life!
For bodywork, contact us at 651-639-0017.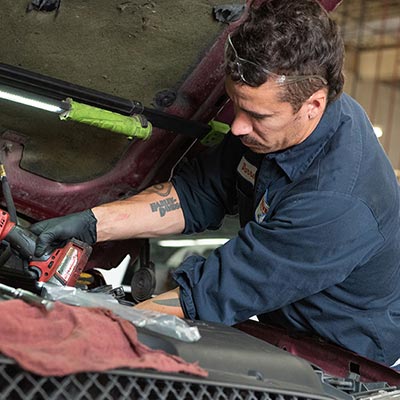 Fleet Specialists
Universal Truck Service is your ultimate destination for comprehensive fleet bodywork, maintenance and repair solutions. Our extensive range of fleet services offers discounted labor rates and a strong emphasis on cost-effective repairs. We understand the intricate nature of managing maintenance and repair tasks for fleets of all sizes. With our 20 years of industry experience, you can rely on us to provide reliable commercial fleet services customized to your unique business requirements.
Safeguard your investment: Fleet units are a vital investment for your business, and we prioritize their protection through expert repair and meticulous fleet maintenance services.
Minimize downtime: Time is valuable, and we recognize the importance of minimizing fleet downtime. Benefit from our prioritized scheduling and accurate time estimates to keep your fleet on the road.
Optimize your budget: Our skilled team specializes in fleet repair, offering negotiated labor discounts and a sharp focus on value-driven repairs, ultimately reducing your overall cost of ownership.
Complimentary Delivery: Streamline your fleet maintenance experience with Universal Truck Service's complimentary delivery services exclusively designed for our valued fleet accounts. If interested, simply contact our dedicated Service team at either of our locations. They will gladly provide you with all the necessary information regarding the availability and terms of our convenient Pickup and Delivery service. Experience the ease and efficiency of Universal Truck Service as we go the extra mile to ensure your fleet stays on the road without disrupting your busy operations.
Experience the ease and efficiency of Universal Truck Service as we go the extra mile to ensure your fleet stays on the road without disrupting your busy operations.
Contact us for an estimate, call 651-639-0017.
Get A Quote